barack2012:
barack2012 on July 24, 2012 at 2:08 PM
Typical double talk from this family. If someone was cruel and nasty enough to utter an insulting term regarding handicapped children, Sarah Palin would appear, crying for an apology, quicker than she jumped on the loins of Glen Rice. There is nothing even remotely funny about this little boy using such a term. Then again, this house of abstinence has hardly abstained from anything at all.-Daryl-

Reply ↓
Originally posted on The Fifth Column: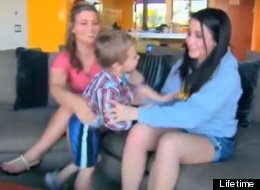 It appears Bristol Palin might be saying too much around her three-year old son Tripp…
The Palins have never been known for being particularly gay-friendly — and unfortunately, it seems as if the youngest member of the family is following in the footsteps of his elders.
A newly-released clip from the Lifetime reality series "Bristol Palin: Life's a Tripp" shows Tripp Palin uttering a homophobic slur when mom Bristol and aunt Willow won't let him visit the swimming pool.
The Palin sisters gasp, and then giggle, when three-year-old Tripp's temper tantrum culminates in the tot calling his aunt a "faggot."
Though Bristol does confess that she's "doing a terrible job disciplining Tripp…I know he's going to continue to push the boundaries," her son's behavior doesn't seem too out of step, given his family's history of anti-gay activity. In 2010, Willow sparked controversy when she fired…
View original 86 more words